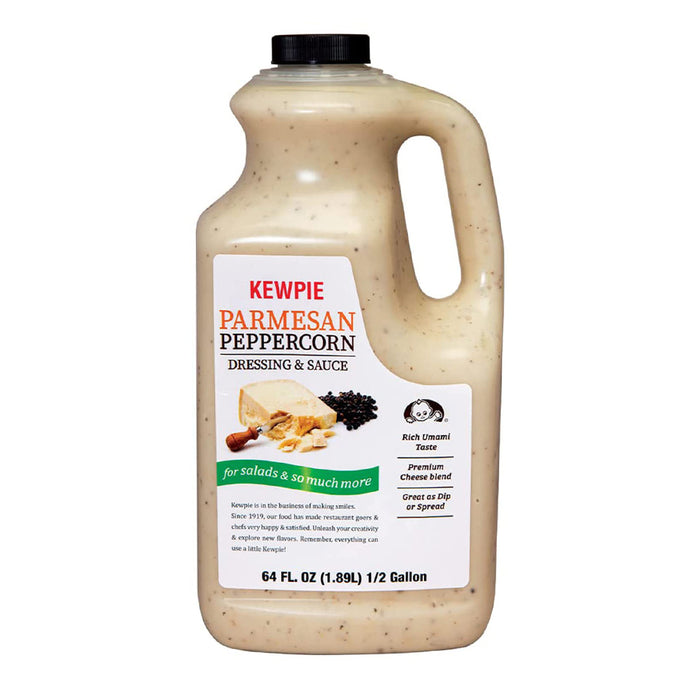 Kewpie Parmesan Peppercorn Dressing, 64oz
Sold out
Original price
$29.99
-
Original price
$29.99
It's Almost Too Tasty For Words
The delicious, bold taste of deep-roasted, whole sesame seeds is the secret ingredient of this signature Japanese restaurant-style creamy salad dressing. Delectable and versatile. Great on salads, cold pasta, as veggie dip, slaw mix or marinade for all types of meat.
** Asia's No.1 Selling Salad Dressing!
LARGE SIZE: Our 64oz bottle is great for big families, food service organizations, or even singles who just want to stock up on some great dressing. 
Flavor: Parmesan Peppercorn
Specialty: Natural
Allergen Information: Eggs
RICH AND CREAMY - Kewpie Parmesan Peppercorn Dressing is a perfect blend of cream and parmesan cheese, giving it a smooth and rich taste. The creamy texture makes it easy to mix with any salad greens, providing a perfect balance of flavor and texture.

PERFECT FOR SALADS - This dressing is specially formulated to complement salads, making it an ideal choice for any kind of greens, whether it's a simple mixed greens salad or a more complex Caesar salad. It can also be used as a marinade for chicken, fish or vegetables, or as a dip for crackers, chips or veggies.

MADE WITH NATURAL INGREDIENTS - Kewpie Parmesan Peppercorn Dressing is made using natural ingredients, including parmesan cheese and black pepper, providing a healthy and delicious alternative to other dressings.

NO ARTIFICIAL PRESERVATIVES - This dressing is made without the use of any artificial preservatives, ensuring that it retains its natural flavor and texture. It's a great option for those who prefer to avoid artificial ingredients in their food.

VERSATILE - Kewpie Parmesan Peppercorn Dressing is a versatile condiment that can be used in many different ways, whether it's as a salad dressing, marinade, or even as a dip for vegetables, crackers, or chips. It's perfect for any occasion, from a casual lunch to a fancy dinner party. With its rich and creamy taste and natural ingredients, it's sure to be a hit with any crowd.