DEEP ROASTED SESAME DRESSING RECIPE
Juicy grilled chicken and delicious roasted vegetables pair perfectly with Deep Roasted Sesame! This easy Chicken Salad Bowl is your new go-to summertime meal.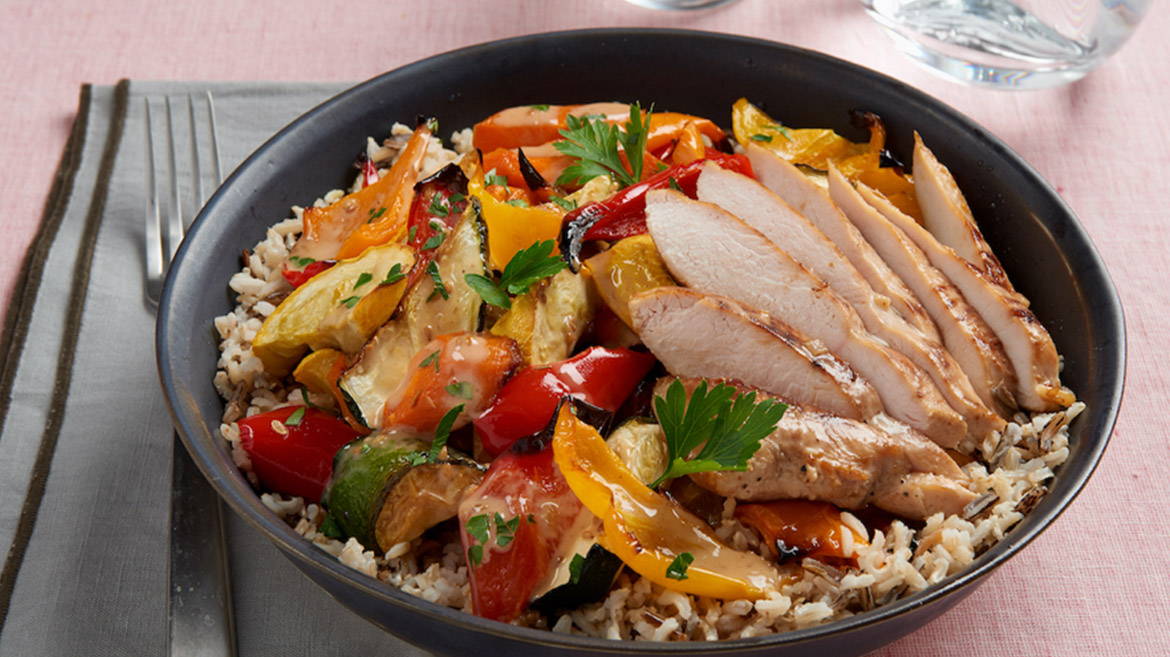 2 pcs. cooked chicken breast, sliced
1 carrot, peeled and cut into bite size pieces
1/2 yellow squash, cut into bite size pieces
1/2 zucchini, cut into bite size pieces
4 pieces mini sweet bell pepper, seeded and cut into bite size pieces
1 Tbsp. olive oil
salt and pepper to taste
4 Tbsp. Kewpie Deep Roasted Sesame Dressing
1/2c. long-grain wild rice

1. In a pot, add rice and 3-1/2 cups water. Bring it to a boil. Cover and simmer for 50 minutes or until rice is tender.

2. Preheat oven to 375F. Line baking sheets with aluminum foil and add all vegetables. Toss with salt and pepper, then olive oil. Bake for 15 to 20 minutes until tender. Remove from oven and set aside.
3. Assemble 2 bowls with cooked rice, vegetables and chicken. Drizzle dressing evenly.
DEEP ROASTED SESAME DRESSING (12 oz)
IT'S ALMOST TOO TASTY FOR WORDS
Try this versatile dressing as a marinade in your chicken recipes or as a sauce for your pasta salad. Use it as a finishing sauce or a glaze in all your fish recipes.